The AMX400
Newbie
I had heard of this beast before but was never able to find anything on it…till last night that is.
The AMX400 was the brain child of George Barris. Barris had an ongoing deal with amc to create a bolt on customizing kit. Pulling some strings with AMC he acquired a 1969 AMX and created this, although this went a bit beyond a "bolt on" package. This car had a lowered roof (by 4.5 in). The nose and tail were extended and the fll length tail light lit up green when the vehicle accelerated, lit up amber when coasting and red when braking.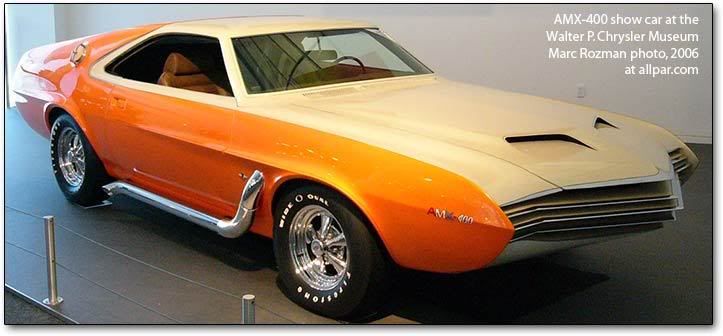 Site director
Nice pics, shanebo, thanks for the contribution. This is a really wild car. I'll be adding these pictures into the RustBucket photo album. We do have some other stuff on the site about this, I'll get the pieces connected to each other. I know I've got a trading card with this car loaded up on the server, probably need to find it in order to get it displayed. I've been extremely busy working and traveling and haven't been able to spend as much time as I want to on the site.
1 guest and 0 members have just viewed this.